If it's happening…You'll find out about it in Ipswich24 Magazine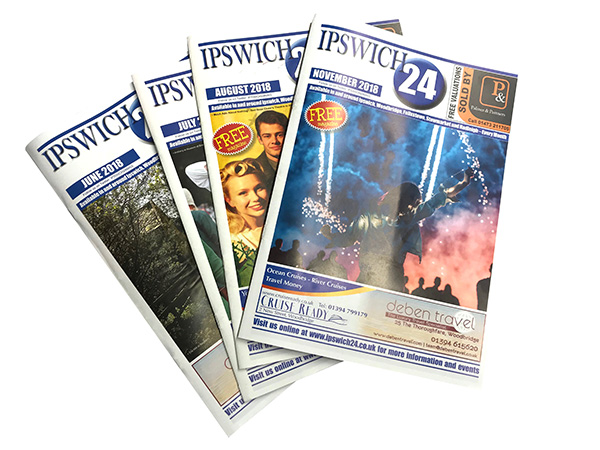 Ipswich24 Magazine is the leading free entertainment, lifestyle and leisure magazine for Ipswich, Felixstowe, Woodbridge, Stowmarket, Hadleigh and surrounding areas.
Established in March 2007 by Fizzwig Designs, Ipswich24 magazine has become a "Must-have monthly reference guide".
If you're looking for something to do for a day out with the family or a night out with friends, you can guarantee you'll find something within the pages of Ipswich24 Magazine.
Ipswich24 also regularly includes celebrity interviews, plus in-depth articles on forthcoming events.
Dedicated special features including Health and Wellbeing, Homes and Gardens, Wedding Guides and local business profiles are also included within the pages of the magazine.
Plus each month, there are great free to enter competitions offering fantastic prizes including tickets to local events, stage shows, books, CDs and much more.
Ipswich24 is available "free to pick up" every month. No matter who you are, or how old you are, there is always something for everyone in every issue of Ipswich24 Magazine. Also find us online at www.ipswich24.co.uk
A wise businessman said: "When times are good, you should advertise. When times are bad, you MUST advertise." – Let us help provide you with the best tools to promote your business.

That's why it's a great way to promote your business or event FIND OUT MORE»
All this and much more, and best of all Ipswich24 Magazine is FREE!